The quickest and most economical way of marketing fish
Division responsible for manufacturing reusable plastic crates made with high density polyethylene (HDPE) for the fishing industry.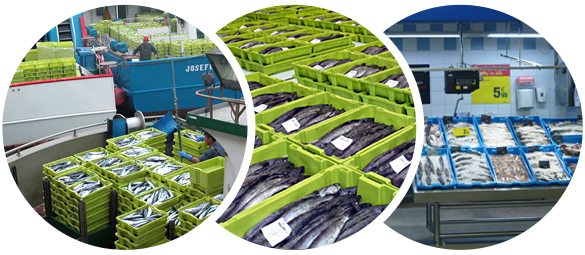 Plastic solutions for the meat industry
Reusable and recyclable plastic crates and pallets specially designed for the meat industry
Plastic solutions for the agricultural sector
Reusable plastic crates and containers for the harvest and sale of fruit and vegetables.
Eurobox and stackable picking wall containers
Open fronted boxes and bins for order picking and storage.
Efficient technology at the service of Aquaculture
Line of products aimed at aquaculture sector and marketed under the FLOTAR brand name.
The most durable option in exposed and humid environments
Line of products made-to-measure created to substitute wood for plastic high density polyethylene (HDPE) profiles.
BLOG
In our blog you will find the latest news about the products we develop and about the activities in wich our company is involved.
You will also find a news archive reflecting TEPSA's activities over time.
TEPSA colabora con la iniciativa Coronavirusmakers.org para suministrar pantallas de proteccion facial en Galicia. Te contamos más detalles de esta iniciativa en nuestro blog.

New family of products in 2020: reusable crates for shellfish, snails and other animals. Our plastic crates with lid...
PLASTIC SOLUTIONS FOR THE FOOD INDUSTRY